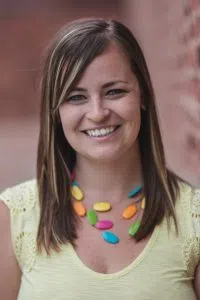 Welp, here goes MY crazy story… I was born in Burlington, Iowa and now I live in Burlington, Iowa! HAH! Told you it was crazy.
Actually, I love it here. I had plans after broadcasting school to look for a radio job somewhere else, but the radio company I was working for as a part-timer asked me to stay and made me full-time. Since then, I had a baby and no desire to leave my family behind.
I went to school in West Burlington, then went to Southeastern Community College for a couple years and then FINALLY moved away to Macomb, IL while I attended Western Illinois University and earned my broadcasting degree. I worked for another radio company in Burlington for about 10 years and was ready to do more… so HERE I AM!
I've always had a love for country music! My grandpa use to have an old jukebox in his garage filled with good ole 90's country hits. He used to let me dance on his work bench and pretend I was Faith Hill!
Just because I love country music, doesn't mean I'm a "country girl" though. I will warn you, the most country thing about me is my love for Mama June and Honey BooBoo. Other than that, I don't do mud, bugs and I don't like beer. I do however LOVE martinis!
One more thing about me, I'm an animal lover. I have cats and dogs and I talk about my fur babies A LOT on the air. They keep life entertaining. So does my toddler. It's a FULL HOUSE… but a clean house!
That's just a little bit about me. Feel free to ask me ANYTHING. I'm an open book!