It's Friday, which means we are doing Countdown to Kickoff! As many of you know, football is my bread and butter and I literally can talk about it all day. I grew up watching the NFL and College (we won't talk about my college team) and in high school, I played. You read that right! I played on the men's team my junior and senior years of high school.  Yes, I was on the varsity team. Yes, I was the only female… and Yes, my mother did have an issue with it at first. They day I told my parents I wanted to go through with this, they were a tad shocked, but were very very supportive.
Being a soccer player my whole life, kicker is where I started. Soon I broke out and learned other positions. I'm not going to lie, this was not an easy thing to do. I would be the first female in my district to play and one of the first in Colorado. A lot of people were supportive of it, but there were still the critics. Other teams also didn't take it lightly that I was a girl, but I took it as a challenge to be the best football player I could be!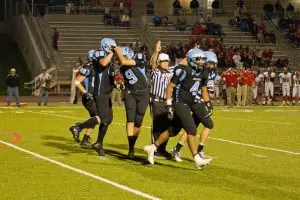 I quickly became one of the guys, but there were still the few that I didn't win over. It wasn't until I got a super amazing coach my senior year, that I figured out the game. He helped me through the mental parts and encouraged to challenge myself each day. That man had more faith in my leg than anyone I know. I remember Senior night, we were doing warm ups and he had me do something I had never done before. The left hash mark was not my friend!  He had me attempt a 50 yard field goal from the left hash. With a little faith and a strong leg, it went right through the uprights. Coach Mikins is still one of my close friends and one of my biggest supporter in everything I do.
Playing football was very emotional. There were a lot of people who felt I didn't belong on the field, but that drove me to be the best I could possibly be. For me, it wasn't about the attention, it was about doing something I loved and was good at. There isn't a Friday night each fall I don't miss being a "boy of fall" (thanks Kenny for that one)  strapping on those pads and playing under the lights. If only I had five more minutes! Thanks Scotty for that song!
My parents always encouraged me to do things that were out of the ordinary and to try something new, no matter what the outcome was. Football taught me more about myself than anything else I've ever done. My advice, try something new, learn what you can from it and don't be afraid of what other's think. I wouldn't have switched from radio to tv if I wasn't afraid to try new things.  If you love what you are doing, none of the outside factors will matter. I hope you have a fantastic Friday!