Many people get tattoos that have no real meaning or that they haven't done research on. Other's get tattoos that are misspelled or they just regret, in general.
Recently, someone on Reddit posted a screengrab from a friend of his who decided that his rescue dog that he loved, needed something to bring them closer together. Except there is one problem…what he did, may have surprised him more than he originally had thought.
The story goes that the person posting had a tattoo placed on his arm that was the exact replica of a tattoo that he saw on his dog. He felt that the tattoo was in bad taste and it bothered him that someone would do such a a thing to an animal. In order to bring attention to the supposed abuse, the dog's owner felt it would be a great idea to have that same tattoo placed on his arm.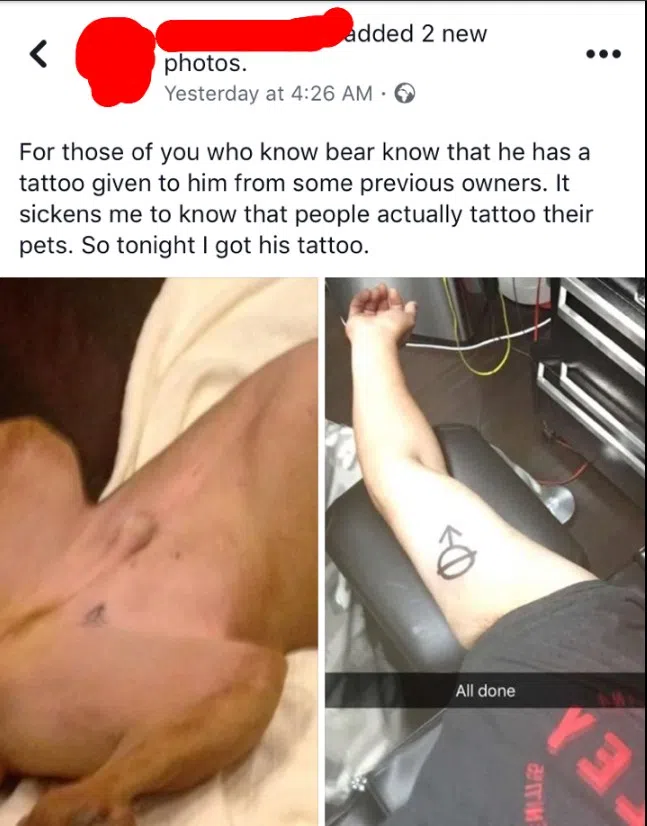 While this seems like a sweet gesture, it seems that the dog's owner didn't do his research on what that tattoo meant. Thankfully, the internet came to the rescue and told him…but it was too late.