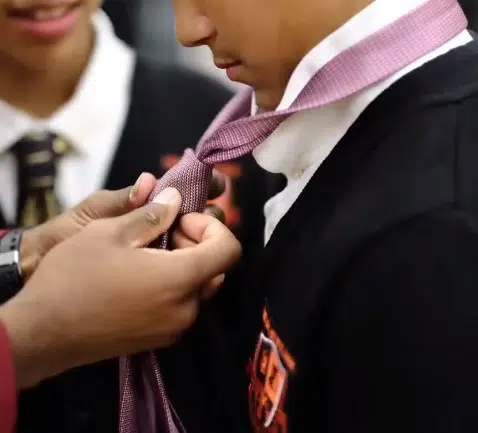 I went to an all boys Parochial school in Dallas, when I was in High School and our motto for the school was "Men for Others". What you will read exemplifies that motto better than anything I have ever witnessed in my life.
With all of the bad news out there, all of us need a break from it. This is probably the most moving story I have seen in quite some time. It speaks volumes about the goodness of people.
Yes, it does bring tears to my eyes, as this such important area in the life of a young man to have a strong male figure in their life.
In Dallas, Billy Earl Dade Middle School was having a "Breakfast with Dads" in South Dallas (which is a lower income area of Dallas). This event was for young men who would come to this event with a father, father-figure or influential man in their lives. However, it was found that 50 students didn't have that influential male figure in their life.
This is a major problem in every community, but Pastor Donald Parish Jr. had a solution. He went to social media and called upon men within the area to step up and apply to be an influential figure in the life of these young men who didn't have a male figure in their life, even if it is for just one day.
Something amazing happened. Pastor Parish had over 800 missed calls from men wanting to help and the website the Pastor had set up for men to apply for a background check was so overloaded, it crashed.
Then something beautiful thing, on the day of the "Breakfast with Dads", over 600 men showed up to be that positive male figure for these young men. They came from all walks of life, they came from all economic backgrounds, financial statuses, and locations in and around Dallas.
Pastor Donald Parish Jr. documented this event that I call a miracle.
This video has been seen over 11.5 million times. I think it needs to be shared more. This is who we are as a society and it needs to be lifted up and celebrated.
God Bless these young men for their future. God Bless the 600 men that stepped up and Pastor Parish. You are all heroes!!!!