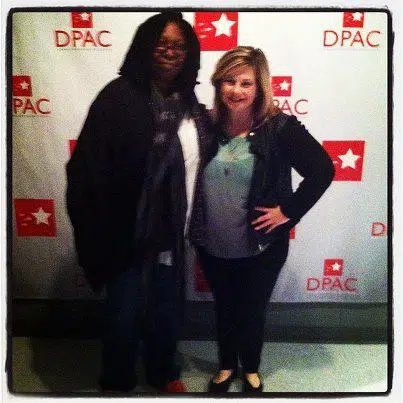 me with Whoopi thanks to that job.
I love Kesha. I love Rainbow. It's my Anthem when I feel like the world is getting me down. From a woman who has said #metoo because I was verbally abused by a boss at a large  radio station.  He'd open my studio door yelling expletives saying "F$35ing focus Mandi" In front of my co workers he'd slam me and say demeaning things.  Then as I'm in the car unleashing my tears he'd call.  He was my boss so I  had to answer.  He'd apologize saying he wouldn't do it again.  He always did.  Once he  wrote me a check out of his personal account to apologize and told me not to tell anyone.  I thought about not taking the money but I was so broke and knew he'd keep abusing his power anyway so I took it. He'd do nice things to make me think maybe he did respect my work ethic and talent like give me Starbucks gift cards saying the station couldn't run without me.  But, the abuse continued.  This was my dream job. I worked two other jobs to be on the radio and I felt broken every time he stormed in the studio.  One day I was in studio and he rushed in saying expletives AGAIN. It was the last time.  I crushed.  I was experiencing back pain from THE STRESS. I called my doctor and he had to prescribe anxiety medication.  The pain was so debilitating I couldn't stand at times.  So I went to his and my boss crying and the boss in question brought his boys' club friend and assistant boss to side with him.  I won that battle as our mutual boss said it needed to stop but lost the bigger battle.  I eventually had to quit. Those guys are still successful and making triple what I make in radio.  I'm crying as I write this for the first time as I've NEVER told this story to the world but  #timesup  People in the biz will likely know whom I'm talking about.  I feared I would never work in the business again.  It took time but I'm back and will NEVER stand for the abuse again.
Dear abuser,
In the words of Kesha, I'm proud of who I am.  I hope you're praying…I wish you farewell.  In the end only God can forgive. I hope your soul is changing…I hope you find your peace falling on your knees. I know I am constatantly trying everyday. The best is yet to come because I CAN make it on my own and I don't need you!
Mandi