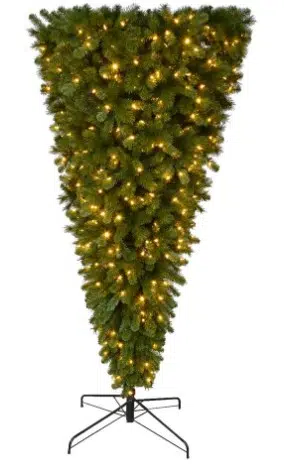 We have seen picture on the internet and social media with people hanging their Christmas Trees from their ceiling of their homes, but it either looks like it was too much work for the picture or it was photo shopped.  Imagine my surprise to find out, it is the real deal and something you can buy at the store.
Yep, you can buy the upside down Christmas Tree at local stores like Walmart, Target and Kohls. Even if they are out of stock, you can order them to have them delivered before Christmas arrives.
Here is the kicker, they aren't much more expensive than the traditional pre-lit tree. They look to run between $150 and $1,000.
While this seems to be a new trend, it isn't as new as you may assume, it has been done in other countries across Europe. Supposedly, hanging fir trees upside down goes back to the Middle Ages, when Europeans did it to represent the Trinity. But now, Christmas trees are shaped with the tip pointing to heaven, and some think an upside-down Christmas tree is disrespectful or sacrilegious. Others do it to be funny.
So we may think that we are on the cusp of something trendy, we are. The USA just isn't the first.